Contact Lens available at Fortune Eye Care, Dhanmondi
Embrace Visual Excellence with Contact Lenses from Fortune Eye Care – Dhanmondi
Your Vision, Our Commitment
At Fortune Eye Care in the bustling heart of Dhanmondi, we understand that each eye is as unique as the individual it belongs to. It's why we've curated a range of premium contact lenses designed to cater to the diverse needs of our clientele. Our commitment is to provide you with lenses that offer comfort, clarity, and convenience.
Explore Our Contact Lens Range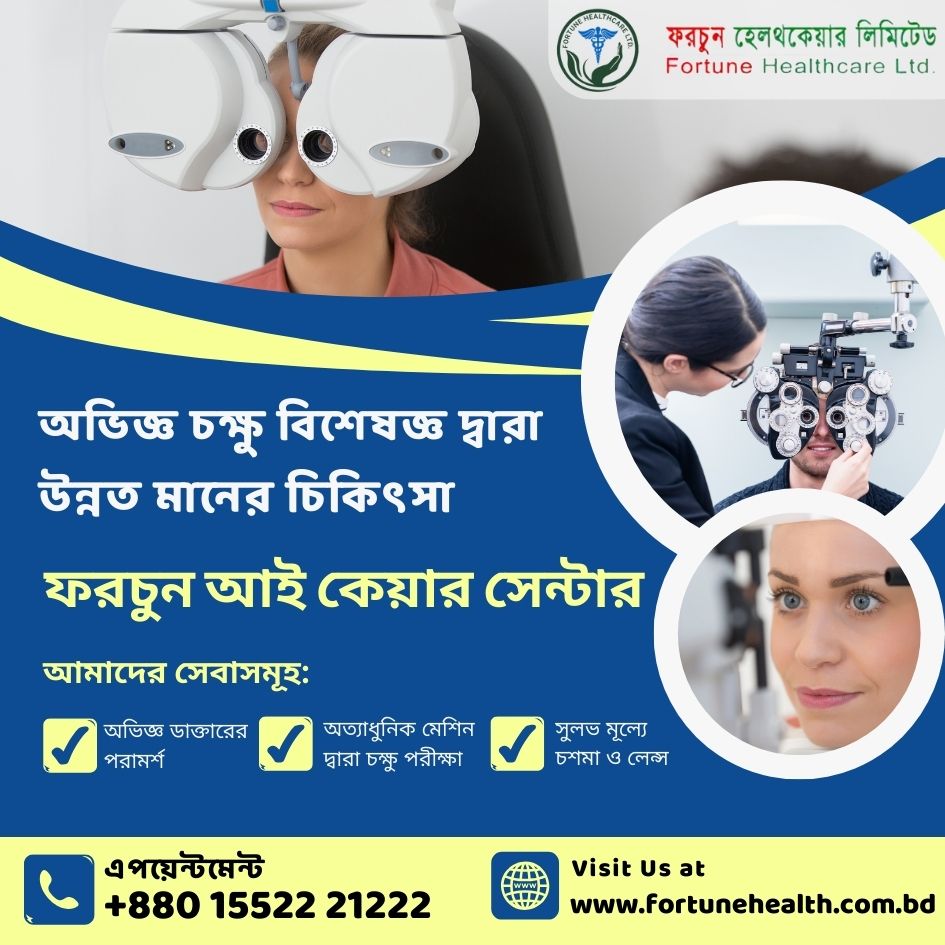 Daily Wear Lenses: For those who cherish simplicity, our daily disposables offer the ultimate convenience.
Extended Wear Lenses: Long-lasting comfort for the active individual who demands more from their lenses.
Toric Lenses for Astigmatism: Tailored for clear vision, these lenses are crafted to correct astigmatism with precision.
Multifocal Lenses: Seamless transition between near and far vision for those with presbyopia.
Cosmetic Lenses: Enhance your natural eye color or try something new with our array of cosmetic lenses.
Fortune Eye Care
A Personal Touch
Individual Assessments: Your vision care is personal to us. Our expert optometrists conduct thorough assessments to ensure your contact lenses are the perfect fit for your eyes and lifestyle.
Custom Fittings: We go beyond the prescription. Our custom fittings take into account the shape and health of your eye, promising unparalleled comfort.
Advanced Eye Care Technology
With cutting-edge technology at our fingertips, we guarantee precision in every prescription filled at Fortune Eye Care. Your eyes deserve the best, and we deliver nothing less.
Affordable Options for Everyone
Quality vision care shouldn't break the bank. Our range of contact lenses is competitively priced because we believe excellent eye care should be accessible to all.
Simplified Refills
Reordering your lenses is a breeze with our streamlined refill process. Stay stocked up on your vision essentials without any hassle.
Aftercare and Support
Never used contacts before? Our patient staff will guide you through the process, offering tips and support for first-time wearers.
Ready for a world with more clarity? Book your appointment at Fortune Eye Care and step into a life of visual excellence.
Contact Us:
Fortune Healthcare Ltd.
Contact lenses are medical devices placed directly on the surface of the eye to correct vision or to change the appearance of the eyes. They are typically made of a thin, clear material that conforms to the shape of the eye.
Contact lenses are used to correct a variety of vision problems, including nearsightedness, farsightedness, and astigmatism. They can also be used to correct presbyopia, a condition that affects near vision as people age.
Contact lenses come in different types, including soft lenses, rigid gas permeable lenses, hybrid lenses, and scleral lenses. Soft lenses are the most popular type and are typically made of a water-absorbing material that is soft and flexible. Rigid gas permeable lenses, on the other hand, are made of a rigid material that allows oxygen to pass through to the eye.
Contact lenses must be fitted and prescribed by an eye doctor or optometrist. The fitting process includes a comprehensive eye exam to determine the correct lens prescription and to assess the overall health of the eyes. The doctor will also measure the curvature of the eye and take other measurements to ensure a proper fit.
It is important to follow proper hygiene and care instructions for contact lenses, including washing hands before handling lenses, cleaning lenses regularly, and following the recommended replacement schedule. Failure to properly care for contact lenses can increase the risk of eye infections and other complications.
Overall, contact lenses are a safe and effective option for correcting vision problems and can provide a convenient alternative to traditional eyeglasses for many people.