Dental Services at Fortune Dental Unit
Dental Service
Discover a Brighter Smile at Fortune Dental Unit
Unlock the Power of Your Smile with Fortune Dental Unit's Exceptional Services
Welcome to Fortune Dental Unit, where cutting-edge technology meets compassionate care in the pursuit of the perfect smile. Our dental practice is dedicated to providing personalized and advanced dental care for the entire family in a comfortable and relaxing environment.
Our Dental Services
Preventive Dentistry: Take a proactive approach to your oral health with our comprehensive exams, cleanings, and educational resources designed to prevent dental issues before they arise.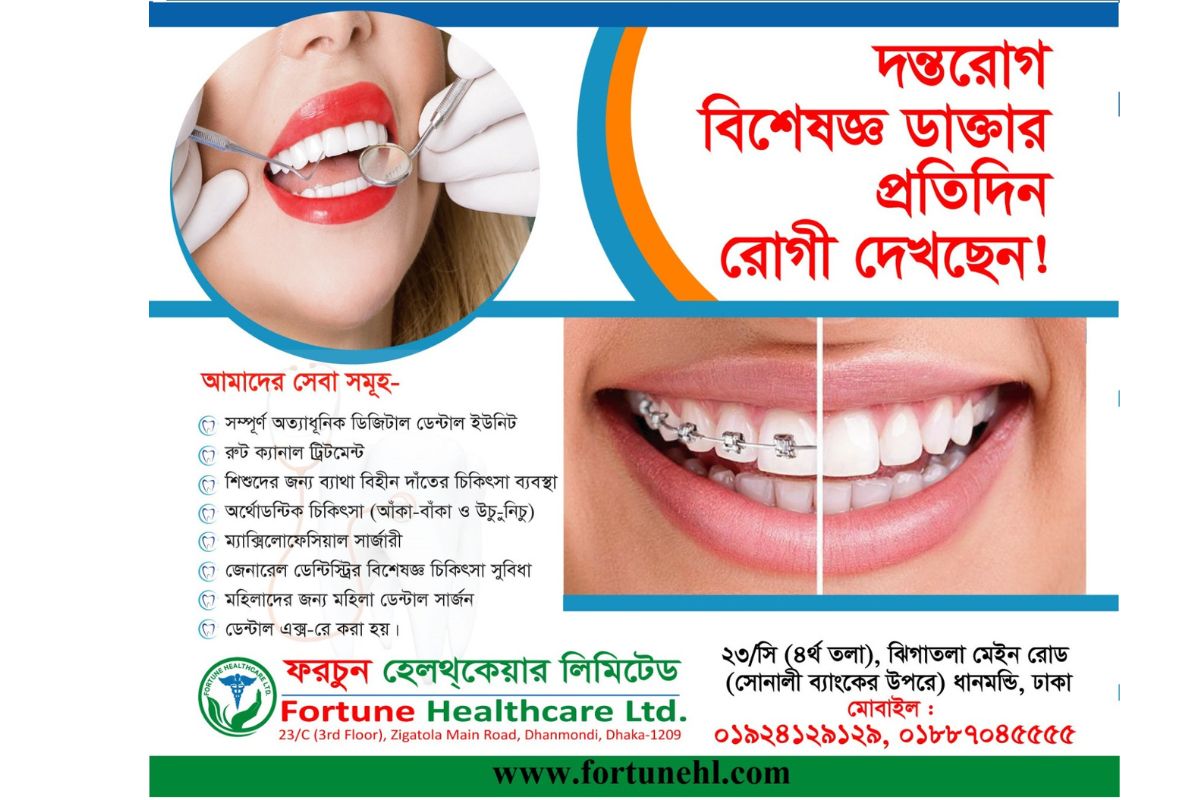 Cosmetic Dentistry: Transform your smile with our array of cosmetic procedures, including teeth whitening, veneers, and bonding, all tailored to meet your aesthetic goals.
Restorative Dentistry: From fillings to crowns and bridges, our restorative services are designed to improve the function and integrity of your teeth while maintaining a natural look.
Orthodontics: Achieve a perfectly aligned smile with our orthodontic solutions, including traditional braces and modern clear aligners, suitable for patients of all ages.
Periodontics: Protect the foundation of your smile with our specialized gum treatments to prevent, diagnose, and treat periodontal disease.
Endodontics: Preserve your natural teeth with our gentle and efficient root canal treatments, alleviating pain and restoring health.
Oral Surgery: Our expert team is equipped to perform a range of oral surgeries with precision and care, including extractions and dental implants.
Why Choose Fortune Dental Unit?
Tailored Dental Care: We believe every smile is unique, and our treatments are customized to fit your individual needs and preferences.
Experienced Dental Professionals: Our team of skilled dentists, hygienists, and dental assistants are committed to continuous education and using evidence-based practices.
State-of-the-Art Technology: Utilizing the latest in dental technology ensures that you receive the most effective and efficient care available today.
Comfort and Convenience: We strive to make your visit as comfortable as possible, with amenities designed to soothe and a scheduling system that respects your time.
Affordable Excellence: High-quality dental care shouldn't break the bank. We offer transparent pricing, multiple payment options, and work with many insurance providers.
Book Your Appointment Now
Embrace the Confidence of a Healthy Smile
It's time to put your oral health first. Contact Fortune Dental Unit today to schedule your appointment and take the first step towards a lifetime of beautiful smiles.
Reach Out to Us:
[Insert Contact Information – phone number, email, online booking platform]
Come Visit Us:
Fortune Dental Unit, your smile is our masterpiece. Let us craft the radiant, confident smile you deserve.
Dental services refer to the various types of oral health care provided by dental professionals to prevent, diagnose, and treat diseases and conditions of the teeth and gums. Fortune Healthcare Ltd. Dental services can range from routine check-ups and cleanings to more complex procedures such as root canal therapy, orthodontic treatment, and oral surgery.
Some common dental services in Fortune Healthcare Ltd. include:
Preventive care: Regular dental check-ups and cleanings, fluoride treatments, and sealants to help prevent cavities and other dental problems.
Restorative care: Fillings, crowns, bridges, and dentures to restore damaged or missing teeth.
Orthodontic care: Braces and other appliances to correct teeth and jaw alignment issues.
Endodontic care: Root canal therapy to treat infected or damaged tooth roots.
Periodontal care: Treatment for gum disease and other conditions affecting the gums and supporting tissues.
Oral surgery: Procedures such as tooth extractions, dental implants, and corrective jaw surgery.
dental services are essential for maintaining good oral health and preventing dental problems from becoming more serious. It is recommended that individuals visit their dentist for regular check-ups and cleanings at least twice a year to ensure their teeth and gums are healthy.