Fortune Healthcare Ltd. – Your Ultimate Destination for Premier Healthcare Services in Dhaka
Fortune Healthcare Ltd. Pain Management
Navigating the Landscape of Pain Management at Fortune Healthcare Ltd.
Chronic pain can manifest in various ways, from a persistent backache to neuropathic discomfort. At Fortune Healthcare Ltd., we understand that every individual's experience with pain is unique. Utilizing the latest in pain relief solutions, our dedicated Pain Management Specialists employ a comprehensive approach to offer effective and tailored treatments for each patient. Pain, whether short-lived or persistent, can hinder daily activities and reduce the quality of life. But with Fortune Healthcare Ltd. on your side, you're not just seeking temporary relief; you're pursuing a future free from the shackles of pain. We integrate both innovative techniques and holistic approaches, ensuring each patient receives personalized care, leading to optimal outcomes.
Rehabilitation at Fortune Healthcare Ltd.: Your Path to Recovery and Vitality
Injuries, surgeries, or chronic illnesses can sometimes keep us from our fullest potentials. This is where the best rehabilitation services in Dhaka come into play. At Fortune Healthcare Ltd., our rehabilitation services aim not just to treat but to empower. Our team of seasoned therapists and rehabilitation experts craft individualized programs designed to restore, rejuvenate, and revitalize. Using a blend of traditional techniques and modern interventions, we help patients regain mobility, strength, and confidence. Every therapy session is a step towards a brighter, healthier tomorrow.
Fortune Healthcare Ltd. Hospital
Fortune Healthcare Ltd. Hospital: Where Health is a Partnership
When you enter the welcoming confines of the Fortune Healthcare Ltd. Hospital, you're entering a realm where medical excellence is a given, and compassionate care is the cornerstone. Recognized as one of Dhaka's leading healthcare institutions, our hospital stands as a testament to our commitment to the community's health. With state-of-the-art facilities, world-class specialists, and a culture rooted in patient-centric values, every visit, consultation, and procedure ensures that you're receiving top-tier care in a serene and supportive environment.
Fortune Healthcare Ltd. Health campaign
Mark Your Calendars: Fortune Healthcare Ltd.'s Health Camp Dates
Healthcare is not just about treatment; it's also about awareness, prevention, and early detection. Fortune Healthcare Ltd. is at the forefront of fostering community health through its free health camps. Scheduled throughout the year, these camps offer residents of Dhaka an opportunity to engage with healthcare professionals, undergo screenings, and gain insights into their health profiles. The health camps are a testament to our belief in proactive health management and our commitment to the community. By hosting these camps, we aim to bridge the gap between the community and accessible healthcare, making Dhaka healthier, one camp at a time.
Admission & Operation services
Fortune Healthcare Ltd. Admission & Operation services
Admission & Operation Services: Experience the Smooth Transition to Healing
Healthcare can sometimes seem like a maze, especially when it involves hospital admissions or surgical interventions. At Fortune Healthcare Ltd., we have revolutionized the hospital admissions & surgical procedures to ensure a seamless, stress-free experience for our patients. From the moment you decide to entrust us with your health to your eventual recovery, every step is meticulously planned and executed. Our dedicated teams, from front-office staff to eminent surgeons, work in harmony to ensure that your healthcare journey is smooth and comforting. Advanced surgical suites, post-operative care, and a robust support system make each admission or surgical procedure at Fortune Healthcare Ltd. a testament to our excellence and commitment.
Fortune Healthcare Ltd.'s Diagnostic Services: Accuracy Meets Technology
In the realm of healthcare, accurate diagnostics are the bedrock of effective treatment. Fortune Healthcare Ltd.'s advanced diagnostic services redefine precision and reliability. We understand that when it comes to health, there's no room for uncertainty. Hence, we've invested in cutting-edge diagnostic technology, ensuring that each test, scan, or procedure offers clear insights. Supported by a team of skilled technicians and radiologists, our diagnostic services are a beacon of trust and clarity. Whether it's a routine blood test, specialized scans, or any other diagnostic procedure, with Fortune Healthcare Ltd., you're guaranteed results that stand the test of time.
Pain Management Services
Fortune Healthcare Ltd. Pain Management
Fortune Healthcare Ltd. is not just another healthcare establishment; it's a vision realized. It stands as a symbol of hope, trust, and commitment to the well-being of its patrons. Whether you're seeking pain relief, recovery, or a deeper understanding of your health, our doors are always open, beckoning a healthier future. Embrace a world where health and care converge, only at Fortune Healthcare Ltd.
Engage, Explore, and Experience: The Essence of Fortune Healthcare Ltd.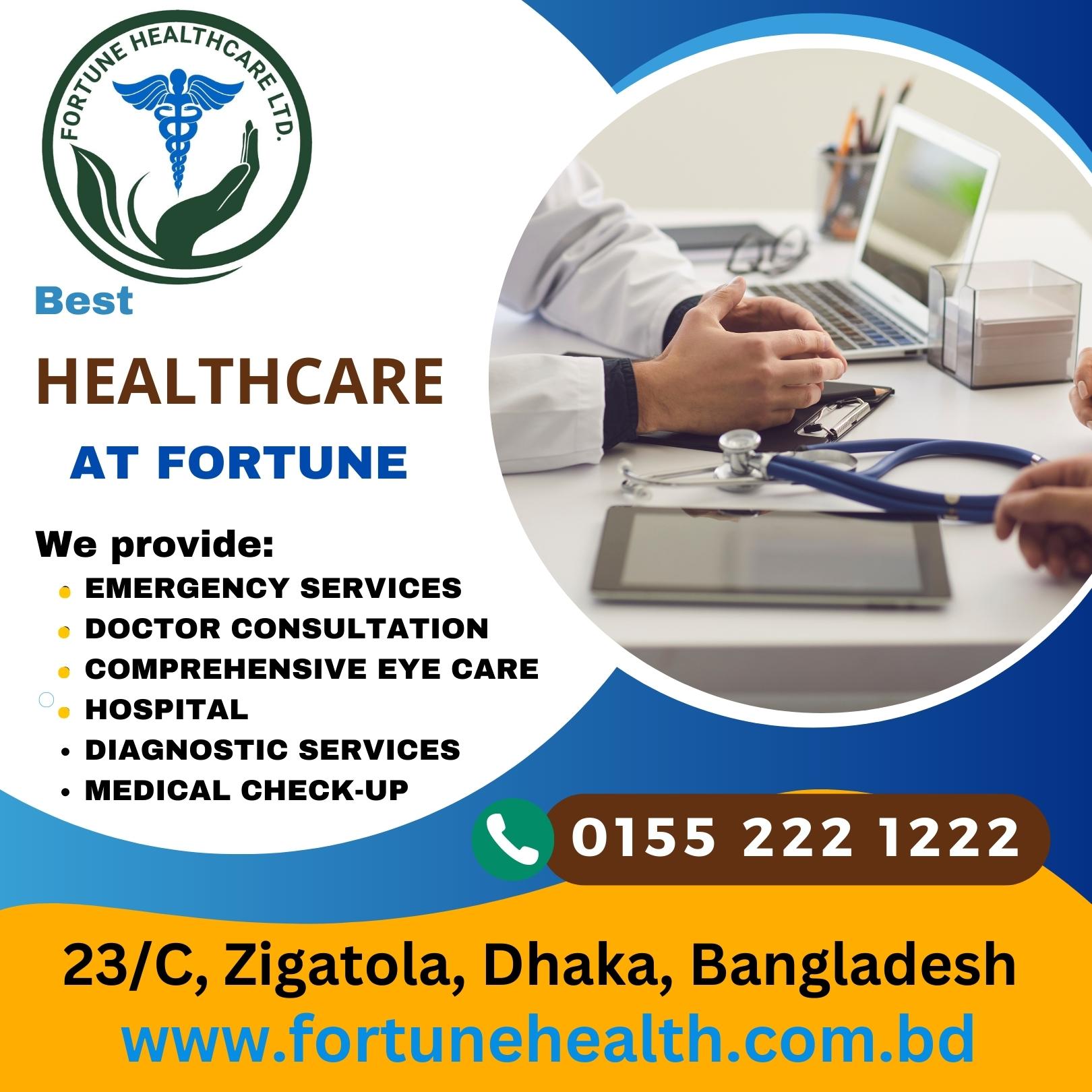 The Pinnacle of Patient-Centric Care
At the heart of Fortune Healthcare Ltd.'s exceptional services is our deep-rooted belief in patient-centric care. We understand that beyond the medical jargon and technicalities, it's the human touch, understanding, and compassion that truly heal. Every member of our staff, from our renowned specialists to our dedicated nurses, embodies this philosophy. They are trained not just in clinical expertise but in empathetic care, ensuring that every interaction is comforting and reassuring.
Stay Informed with Fortune Healthcare Ltd.'s Health Camps
In today's fast-paced world, it's easy to lose track of regular health check-ups. That's why our health camp dates serve as gentle reminders for you to prioritize your well-being. Each camp offers an array of services, from general health check-ups to specialized screenings. Moreover, these camps are often graced by our top physicians, providing an unparalleled opportunity for attendees to gain insights directly from the experts. To stay updated and not miss out on these valuable sessions, we recommend regularly checking our official website or subscribing to our newsletter.
The Continuum of Care: From Admission to Recovery
Fortune Healthcare Ltd. prides itself on its streamlined admission & operation services. We believe that the journey to health, especially when it involves hospitalization or surgery, should be as smooth as possible. To this end, we offer dedicated patient coordinators who assist you from the moment you step into our premises. They guide you through the admission process, ensure that you're well-informed about your impending procedure, and stay by your side as you navigate the path to recovery. It's this attention to detail and dedication to patient comfort that sets us apart.
Diagnostic Precision: The Hallmark of Fortune Healthcare Ltd.
In the world of medicine, an accurate diagnosis is the first step towards effective treatment. Our diagnostic services at Fortune Healthcare Ltd. are designed to provide precise, timely, and reliable results. Our state-of-the-art labs are equipped with the latest in diagnostic technology, ensuring that every test is conducted with utmost accuracy. Furthermore, our team of experienced technicians and pathologists ensure that each sample is handled with care, following stringent quality protocols. Whether you're in for a routine check or a specialized diagnostic procedure, you can trust that you're in the best hands.
Join Us in Our Quest for a Healthier Tomorrow
Fortune Healthcare Ltd. stands as a beacon of hope and trust in Dhaka's medical landscape. Our commitment to excellence, our relentless pursuit of innovation, and our dedication to patient welfare are unwavering. We invite you to be a part of our family, to experience healthcare as it should be – compassionate, advanced, and tailored just for you. Let's together chart a course towards a healthier, brighter future. Your health journey deserves nothing but the best, and at Fortune Healthcare Ltd., the best is what we promise and deliver.
Address:
23/C, Zigatola 3rd floor Dhaka, 1209, Bangladesh
Phone: +880 1887045555