Comprehensive Eye Care
Fortune Healthcare Ltd. is a leading healthcare company dedicated to providing quality products and services in various sectors, including ophthalmology. Our Comprehensive Eye Care division aims to cater to the diverse needs of our customers, ensuring that they receive the best possible care for their vision.
Comprehensive Eye Care services
Routine Eye Examinations: Regular eye exams are essential for maintaining good eye health. We perform thorough assessments to detect any vision problems, such as nearsightedness, farsightedness, astigmatism, or presbyopia, and offer appropriate solutions.
Pediatric Eye Care: We emphasize the importance of early detection and intervention for children's vision problems. Our pediatric eye care services include routine examinations, treatment of common pediatric eye conditions, and vision therapy.
Glaucoma Management: Glaucoma is a group of eye diseases that can lead to vision loss or even blindness. We offer a comprehensive approach to glaucoma management, including screening, diagnostic testing, and a range of treatment options.
Cataract Surgery: Our experienced surgeons utilize advanced techniques and technology to provide safe and effective cataract removal procedures. We offer various intraocular lens (IOL) options to suit individual needs.
Diabetic Eye Care: Diabetes can lead to several eye complications, including diabetic retinopathy. Our diabetic eye care services focus on early detection, monitoring, and treatment to prevent vision loss.
Macular Degeneration Management: Age-related macular degeneration (AMD) is a leading cause of vision loss in older adults. We offer comprehensive management services, including diagnostic testing, monitoring, and treatment options.
Dry Eye Treatment: Dry eye syndrome is a common and often chronic problem. Our dry eye treatment options aim to alleviate symptoms and improve overall eye comfort.
Eyewear and Contact Lens Services: We provide a wide range of eyewear and contact lens options, including prescription glasses, sunglasses, and various types of contact lenses, to suit individual preferences and needs.
Emergency Eye Care: Our team is equipped to handle eye emergencies, such as injuries, infections, or sudden vision changes, providing prompt and effective care.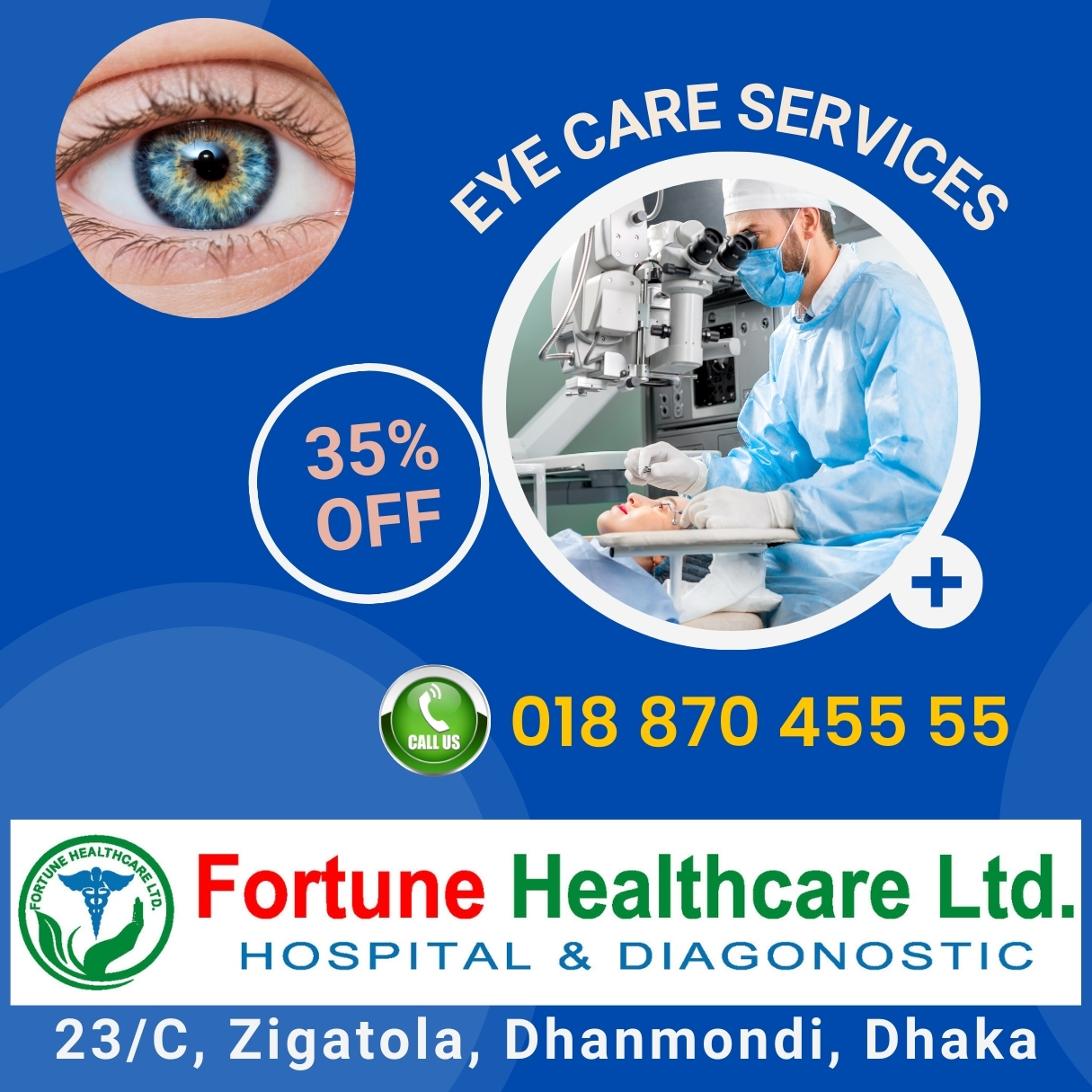 Fortune Healthcare Ltd., our mission is to improve the quality of life for our customers through excellent eye care. Our team of experienced professionals is dedicated to offering personalized and comprehensive services to address a wide range of vision needs.
Comprehensive Eye Care by Fortune Healthcare ltd. Comprehensive eye care involves proper diagnosis and management of eye conditions to ensure proper vision and eye health. Fortune Healthcare Ltd. provides comprehensive eye care services to people of all ages and backgrounds. Our team of experienced ophthalmologists and optometrists are dedicated to providing superior quality eye care services.
We are equipped with the latest diagnostic and treatment technologies to accurately diagnose and treat various eye conditions. Our services include complete eye exams, preventive eye care, diagnosis and management of eye diseases, vision rehabilitation, contact lens fitting, laser eye surgery and more. We also offer eyeglasses and contact lenses to improve vision. We provide personalized and compassionate care to ensure the best possible outcomes.
Fortune Eye Care Hospital
Key Features of Fortune Healthcare Ltd., Dhaka Hospital
Comprehensive Services: From primary care to specialized treatments, our hospital offers a wide range of services, ensuring patients need not look any further.
Advanced Infrastructure: Our modern facility boasts the latest medical equipment, ensuring accurate diagnosis and effective treatments.
Expert Medical Team: Our doctors, nurses, and medical staff are selected from the best, ensuring that patients receive expert care.
Holistic Care Approach: Beyond physical well-being, we focus on the emotional and psychological health of our patients, ensuring a holistic healing process.
Research and Development: We're not just about treatment; we are also about advancement. Our dedicated R&D team ensures that we are always at the forefront of medical innovations.
Departments & Specialties
Cardiology: State-of-the-art department catering to various heart-related ailments.
Neurology: Comprehensive care for neurological disorders.
Orthopedics: Advanced treatment for bone and joint issues.
Obstetrics & Gynecology: Dedicated to women's health and maternity care.
Pediatrics: Specialized care for the little ones.
Eye Care: Comprehensive solutions for vision-related issues.
Gastroenterology: Advanced care for digestive disorders.